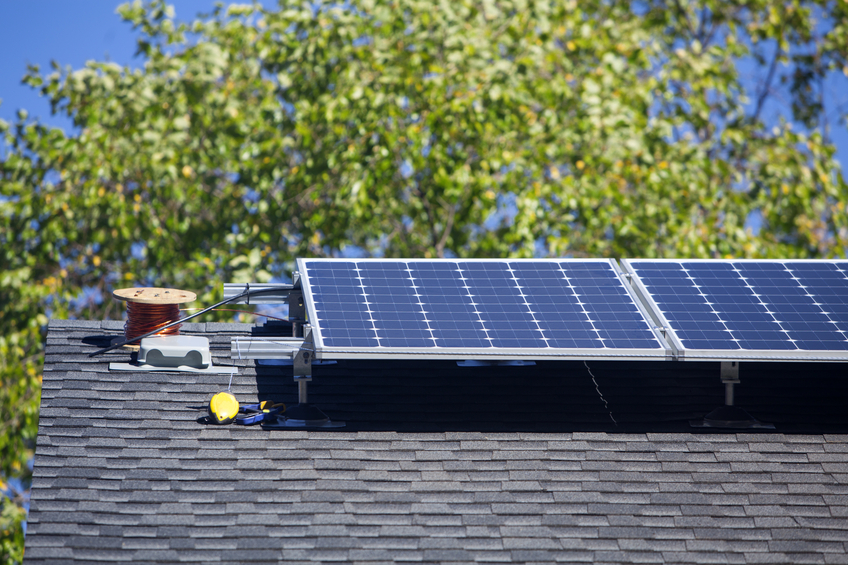 Half the battle of learning about the solar energy industry is understanding the jargon. Whether you're just getting started or need a little refresher, review our simple definitions below to gain better insight on the solar industry.
Inverter
A solar inverter converts direct current (DC) power to alternating current (AC) electricity, either for individual solar panels or for grid-connected solar power systems. DC power produced by a solar array must be converted to AC electricity so it can be used in household appliances — without an inverter, the energy from your solar panels cannot easily be put to use. There are three basic types of inverters:
Microinverters are installed in individual solar panels and are ideal for small solar power systems.
String inverters are ideal for large residential or small commercial setups.
Central inverters are ideal for large-scale systems like solar farms.
Kilowatt/Kilowatt Hours
A kilowatt (kW) is a measure of power — the demand at any given time. A kilowatt-hour (kWh), on the other hand, is a measure of energy — the consumption of power over a period of time. A kWh is the power demand (kW) multiplied by the total amount of time the power is being used (in hours). So, if a 30-watt bulb is running for 24 hours, 720 watt-hours or .72 kWh is consumed (30 watts times 24 hours).
The average household consumes about 30 kWh per day. If your solar panels receive five hours of peak sunlight per day, you need 6 kW of output (30 kWh divided by 5 hours — that's your demand) to cover 100% of your energy use. A typical solar panel can produce between 250 and 270 watts of peak power during ideal conditions, which means you'll need about 24 solar panels to make a 6-kW array.
See Also Solar Array, Solar Panel
Megawatt/Megawatt Hours
One megawatt (MW) is equal to one thousand kilowatts (kW). One megawatt hour (MWh) is equivalent to 1,000 kilowatt-hours (kWh) continuously consumed in an hour. One MW can power an average of 164 homes, though that number can vary significantly by region.
See Also Kilowatt/Kilowatt Hours
Net Metering
Net metering is a billing system that allows users with a solar array to send excess or unused solar energy back to the utility grid for nearby users to consume. This system helps solar power users gain significant savings per month on their utility bills.
When energy demand is low during the day, a typical solar panel system produces more electricity than one household can utilize. Net metering allows users to gain credits for the excess energy their solar panel systems produce during this time. Then, during the evening or periods of peak usage, a household can use these credits to consume electricity that is already paid for.
Net metering benefits vary between states. To learn about your state's net metering policies, check out the Database of State Incentives for Renewables & Efficiency® (DSIRE).
Photovoltaic (PV)
The term photovoltaic (PV) comes from two root words: "photo" (light) and "voltaic" (voltage).
In physics, "photovoltaic" refers to anything that produces electricity when exposed to light or other radiant energy. Solar cells, solar modules, and solar panels are often referred to as PV cells, PV modules, and PV panels to express how their electricity is produced.
See Also Solar Cell, Solar Module, Solar Array
Real-Time Pricing
Real-time pricing (RTP) is a type of time-varying rate (TVR): it empowers users to pay for the actual price of electricity at any given time and save on utilities by adjusting their personal energy use during periods of high or low demand.
RTP policies vary from state to state, and the cost of electric power can vary significantly within a 24-hour period — cost depends on a variety of factors, including expected supply and demand, temperatures, fuel prices, or even a generator outage. Despite these cost fluctuations, however, users tend to pay the same price regardless of when their energy is consumed.
With RTP, a user receives a price signal in short intervals that reflects the real cost of consuming electricity during that time. This pricing system requires the installation of a smart meter to transmit electricity cost data, but can save users an average of 15% on their utility bills.
See Also Time of Use (TOU)
Solar Array
A solar array is a collection of solar panels wired together to create the desired energy output. The typical residential solar array consists of 20–25 solar panels to cover 100% of its energy consumption.
See Also Solar Panel
Solar Cell
A solar cell — also known as a photovoltaic (PV) cell — is the basic component of a solar panel. When sunlight hits the cell's surface, the electrons in the cell are knocked loose and electricity is produced.
Each solar cell is typically made of a thin, crystallized silicon wafer. A solar cell is octagonal in shape, bluish-black in color, and about 156×156 mm in size. A large bundle of solar cells can be wired together into a solar panel, or a cell can be chopped to pieces and fit into tiny gadgets like calculators and digital watches.
A standard solar cell can generate about 1 or 2 watts of power; some solar cells can generate as much as 3 to 4.5 watts. A typical solar panel is made of 36 to 40 solar cells.
See Also Photovoltaic (PV), Solar Module, Solar Panel
Solar Farm
A solar farm is often referred to as a solar ranch, solar field, or solar park. Spanning between an acre and 100 acres of solar panels, a solar farm allows a community to reap the benefits of a solar electricity system without purchasing, installing, or maintaining individual systems. Solar farms usually install solar panels on towers that can track the sun to produce a higher energy output each day compared to a typical — static — residential solar array.
Solar Module
See Solar Panel
Solar Panel
When solar cells are wired together to generate larger amounts of power — typically in a bundle of 36 to 40 cells — they form a solar panel. The term solar panel is often used interchangeably with solar panel. To accomplish desired current and voltage, solar panels are wired together to form an array.
The average household will require 20–25 solar panels in its solar array to cover 100% of its energy consumption — though you'll want to use a solar calculator to determine how many panels your household's average energy consumption will require.
See Also Photovoltaic, Solar Array, Solar Cell
Time of Use
Time of Use (TOU) is a type of rate-varying use (RVU) pricing: it breaks up the 24-hour day into three or four pre-defined time blocks, not based on actual usage at those specific times. This tiered pricing structure will remain fixed on a daily basis over seasons. TOU pricing encourages users to shift their electricity consumption to certain time blocks where demand is low and costs are cheaper.
See Also Real Time Pricing (RTP)
It may be quite a challenge to wrap your head around the solar industry's vernacular for the first time. Bookmark this glossary just in case a word or phrase leaves you scrambling.
The post The Ultimate Solar Term Glossary: What You Need to Know appeared first on Solar Power Authority.
See how you can save with #Solar Energy http://ow.ly/Xnkg302gEfq